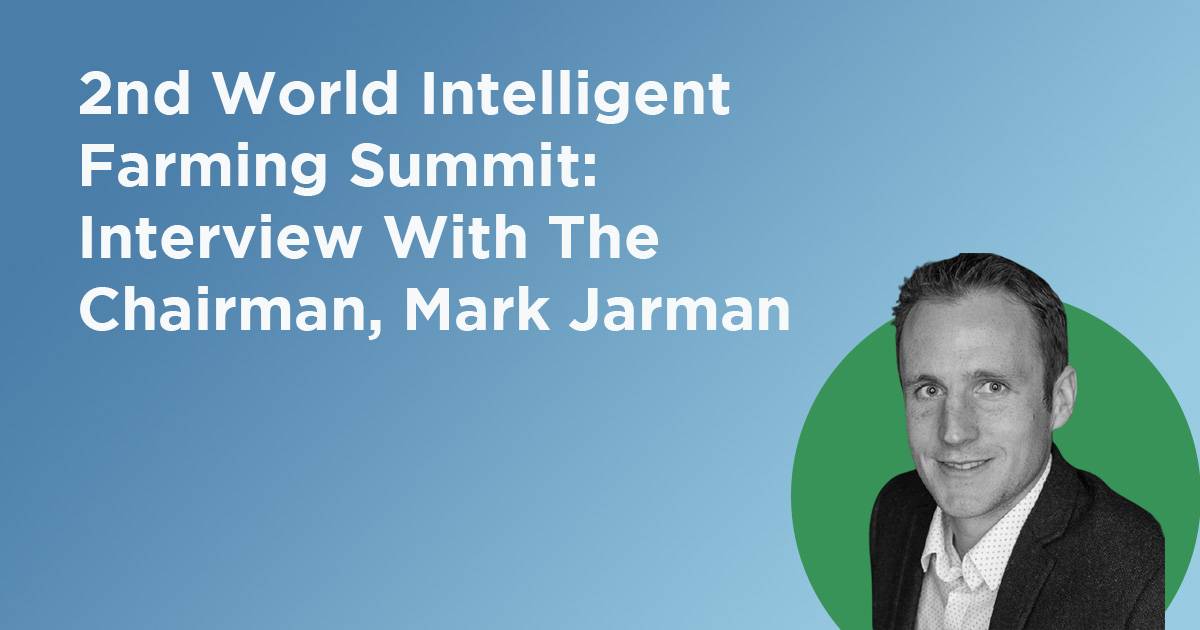 Before the 2nd World Intelligent Farming Summit, we had the opportunity to interview the chairman, Mark Jarman. Mark is the Head of Agriculture for Satellite Applications Catapult.
In our interview, Mark shares his experience in the industry as well as what he expects from the summit. Let's see what he has to say:
CAN YOU TELL US ABOUT SATELLITE APPLICATIONS CATAPULT AND THEIR VISION FOR THE INDUSTRY?
The UK Catapults are part of a world-leading network of technology and innovation centres that bridges the gap between business, academia, research, and government. Funded by the UK Government and leveraging our neutral trusted entity status, we aim to transform the UK's ability to create new products and services and open global opportunities to generate sustained economic growth.
As an independent, not-for-profit organisation, the Satellite Applications Catapult delivers impact across the UK economy, enabling businesses to thrive in global markets. The Catapult is instrumental in developing, promoting, and driving the adoption of satellite-based products and services across value chains and markets. Our mission is 'to innovate for a better world, empowered by satellites.
Located near Oxford in the UK, the Catapult operates globally to deliver solutions that bring together local and UK entities from policy, technology, and science to tackle critical challenges. By connecting industry and academia, embracing a pioneering, agile, collaborative, and entrepreneurial spirit, we get new research off the ground and into the market more quickly to deliver game-changing results.
Our Agriculture and Food Strategy is committed to helping ensure a globally resilient and just food system supported through UK satellite-enabled products and services. Leveraging our network of over 4,500 UK organisations, we develop innovative and transformative sectorial supply chain projects across the world successfully dealing with the nuances that exist in different cultures and business environments.
WHAT ARE SOME OF THE LATEST SMART FARMING TRENDS YOU ARE EXCITED ABOUT?
I am very fortunate in my role to engage with companies and Governments looking to translate some of the latest technology and innovations into an addressment of the breadth of challenges that exist across our global agriculture and food system. The drive for responsible solutions with social and environmental focuses is certainly exciting to watch and especially how these ensure profitable returns to users across. From a technology perspective, areas I am personally excited about the following trends given the will be part of the solution in helping us innovate our way out of some of the big global challenges that agriculture faces, such as available skilled labour or food and resource waste:
5G connectivity, IoT, edge-based analytics, and increased automation on farms
Hybrid communications between space and territorial communications to ensure rural farming populations are connected leading to social gains, as well as unlocking technology and data potential.
Advancements in imaging such as hyperspectral and analytical capabilities to turn insights from reactive to proactive actionable intelligence.
New business models around 'software-as-a-service' and 'data-as-a-service' that are creating new opportunities for end-users to integrate or exploit the variety of datasets available.   
WHAT BARRIERS DO YOU SEE IN USING NEW TECHNOLOGY MORE BROADLY?
I spend a lot of my time supporting product and service providers to understand the needs of users across the agriculture and food system, and subsequently helping those users understand the technology, removing prejudices, and how it can enhance business decisions and therefore unlock value. Helping bridge this divide is essential to ensure technology can be developed or exploited appropriately. I see some of the core challenges as follows:
Value – There is often a failure of providers to clearly justify the value creation of their products or services to end-users.
Risk – No growing season is the same and many end-users have historically been let down by technology and data promises. Also, technology adoption often requires a leap of faith to truly understand its benefit. Only very large organisations or Governments can afford to take this risk. Failure to build risk-sharing into business models can put end-users off purchasing.
Scale – Users want information at the scale of relevance to them. Products and services need to be either flexible, or highly focused dependent upon user need.
Policy – Enabling policies are essential to unlocking technology potential.
Social – Farming is a vocation that users enjoy doing. Technology needs to enhance in many cases, not always replace.
DURING LAST YEAR'S EDITION, YOU DISCUSSED THE CHALLENGES AND OPPORTUNITIES WITH SPACE AND AGRICULTURE. COULD YOU BRIEFLY HIGHLIGHT WHAT THE FUTURE DEVELOPMENTS LOOK LIKE AND HOW THEY WILL BENEFIT THE SECTOR?
The satellite sector is undergoing transformational changes, leading to a greater amount of accessible data, higher spatial resolutions, automated analytics, and diversified business models. The Catapult is at the forefront of this revolution, pushing the bounds of both technology and applications.
One of the biggest changes is related to satellite connectivity. The new LEO (Low Earth Orbit - ~1200 km) and vLEO (very Low Earth Orbit - ~550 km) constellations deployed by OneWeb and Starlink respectively will provide connectivity to users and enterprises of multiple verticals. Both constellations will provide high-throughput connectivity to rural or remote areas, where there is no fibre optics or cellular network deployments. Also, in the case of OneWeb, they plan to provide positioning, navigation, and timing (PNT) capabilities to their second generation of satellites (in service in 2024-2025). That PNT service will compete with Galileo or GPS and will create new business opportunities related to positioning.
Apart from these broadband services providers, there are other LEO constellations with a focus on IoT that could be of interest for rural areas, farming, etc. They will provide connectivity to sensors (LoRaWAN, NB-IoT) from the field directly to the satellite and therefore help us move towards truly connected farms. 
WHAT ARE YOUR EXPECTATIONS FOR THE 2ND WORLD INTELLIGENT FARMING SUMMIT?
Often at events with a technology-driven focus, there tends to be a speaker line-up from technology and service providers. I am most excited to be chairing this event because of the line-up of end-user speakers that are joining from across the breadth of the agricultural and food system. Getting their perspectives is essential as those insights can help guide and ensure commercial success for those in the audience looking to supply them with technology and data-driven solutions.
To learn more about the 2nd World Intelligent Farming Summit, request your free brochure! Then save your seat today to virtually join Mark and other industry experts.