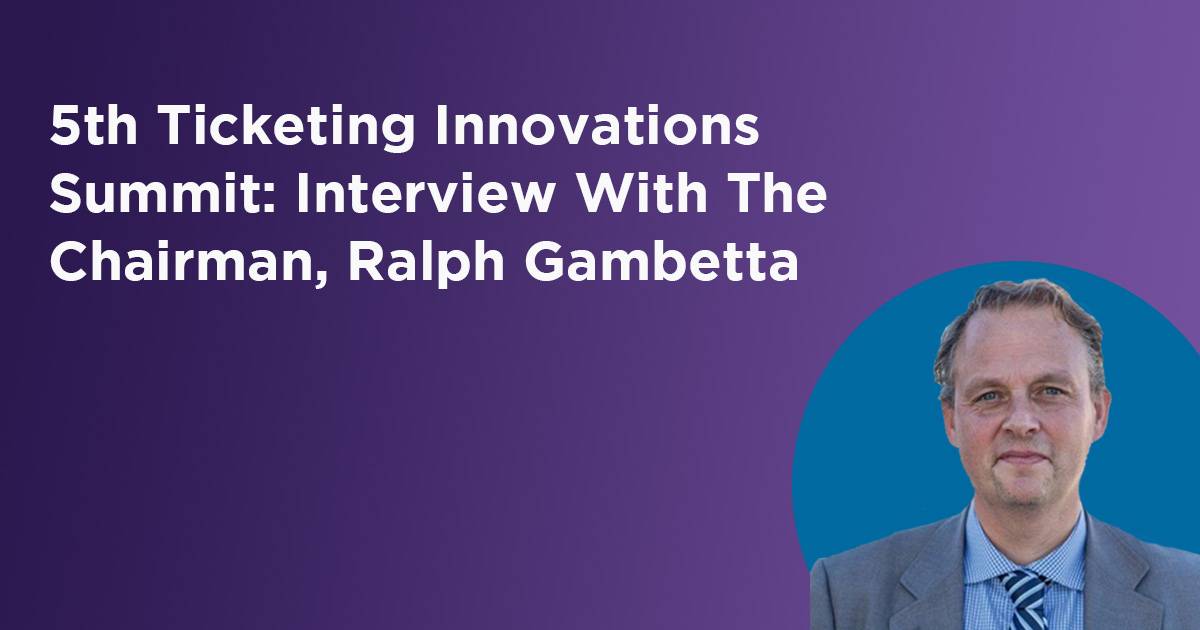 Before the 5th Annual Ticketing Innovations Summit, we had the opportunity to interview the chairman, Ralph Gambetta. Ralph is the General Secretary for Calypso Networks Association (CNA).
In our interview, Ralph shares his experience in the industry as well as what he expects from the summit. Let's see what he has to say:
NOW THAT THE EFFECTS OF THE PANDEMIC HAVE EASED AND PEOPLE ARE BEGINNING TO USE PUBLIC TRANSIT AGAIN FOR BUSINESS OR LEISURE TRAVEL, WHAT DO YOU SEE AS THE BIGGEST CHALLENGE FOR TICKETING PROVIDERS AT THE MOMENT?
We have all been significantly affected by the pandemic. Manifold business has been challenged and needs now to be updated. Where digitalisation was just a long-term plan the speed of implementing this policy has been accelerated. From the point of view of the sustainable and green transport modes, the regaining of customers is crucial. Enhancing trust in mobility services is fundamental for any form of recovery. For the distribution systems, this means to be mandatorily digital and reduce contact interfaces as much as possible. Self-understood, by maintaining social inclusiveness. For the fare schemes, the need for flexibility and adaptability is essential. For the mass transit operators, a rethinking of the fares needs to start, and the design of tailormade and scalable mobility packages will become essential.
IN YOUR OPINION, WHAT WAS THE BIGGEST TECHNOLOGY OR BUSINESS STRATEGY TO COME OUT OF THE PANDEMIC AND HOW IS IT IMPACTING THE INDUSTRY?
Going contactless is now paramount and many networks need at first still to achieve this level. Now new technologies and digital distribution channels are decisive for the companies' recovery plan. Ticket sales and inspection are getting now more and more contactless. The technology was always ready, but now the political decision-making level has understood the necessity of providing framework conditions to easily and rapidly implement this.
LAST TIME WE SPOKE, YOU SAID ABT AND MOBILE TICKETING HAD NOT BEEN WIDELY ADOPTED YET. DO YOU THINK THAT IS STILL THE CASE? IF SO, WHY DO YOU THINK ORGANISATIONS ARE STILL HESITANT AND IF NOT, WHAT LED TO THESE THINGS BEING ADOPTED MORE WIDELY?
We see now more and more successful examples of mobile ticketing implementation across the globe. The increase of NFC compliant phones has speeded up this process and obviously, more and more persons do not intend to manage additional fare media if they can do this directly with the mobile phones. In terms of ABT significant market take-ups have been experienced. With clear rules on a governance level and technology allowing a fast adoption of the ABT concept, the ground is prepared to see further deployments coming up in a near future.
WHAT IS YOUR ADVICE FOR ANYONE PLANNING TO ACQUIRE A NEW SYSTEM OR JUST BEGINNING THEIR JOURNEY WITH A SMART TICKETING SYSTEM?
Do not try to reinvent the wheel. Technology is ready to be used and with choices based on open standards, the sustainability of investments is guaranteed as you can always build upon what you have implemented.  The technology is available on the market, just go for it.
YOU'VE ATTENDED THIS EVENT FOR MANY YEARS NOW. WHAT ARE YOUR EXPECTATIONS FOR THIS EDITION?
The conference has nicely developed over the last years and has become now a reference in the yearly ticketing event calendar. This year I expect to see how industry and operators have been coping with the pandemic and to understand what their roadmaps into the future are.  In addition, the event will be one of the first international occasions to meet again in person and this per se will be a refreshing experience. 
To learn more about the 5th Annual Ticketing Innovations Summit, request your free brochure! Then save your seat today to join Ralph and other industry experts.