We are very excited to be returning for our 6th Pricing & Revenue Management Summit in Berlin, Germany on the 30th – 31st of March 2023.
In order for businesses to adapt to changing market trends and consumer demands, the implementation of next-generation pricing tools is necessary to ensure the effectiveness of one's pricing strategy. Technology can be used to help automate processes by going through large amounts of historical, current and future-facing data in order to help dynamically adapt your rates in real time. According to an Accenture survey of 1500 C-suite executives, 84% believe they must leverage artificial intelligence (AI) to achieve their growth objectives, yet 76% report they struggle with how to scale.
Revenue managers will need to employ a combination of tactics and automated technology to keep one step ahead of the competition, maximize their revenues, and succeed in this new post-covid market.
There are many reasons you should join us for the 6th Pricing & Revenue Management Summit, but continue reading for our top 3 reasons: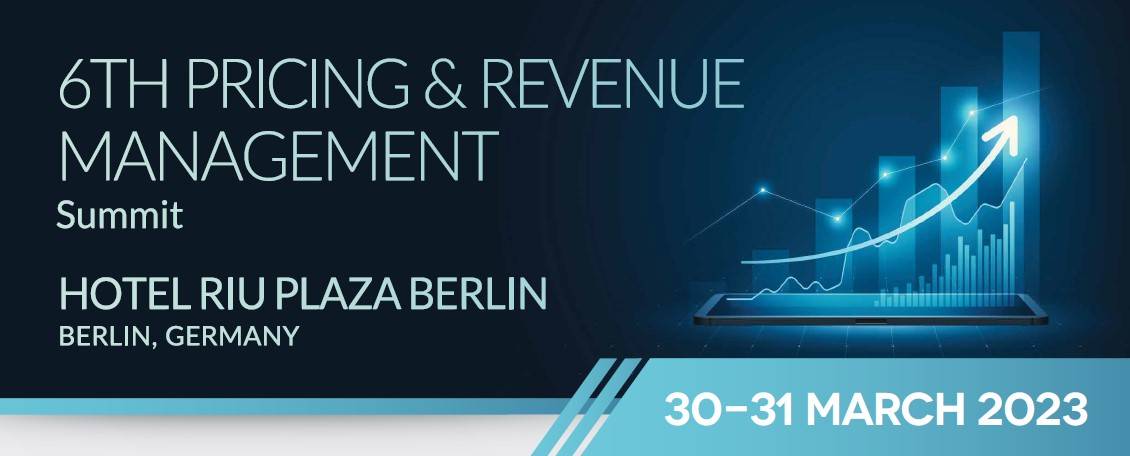 #1: Gain Insights from Global Industry Leaders from Top Brands
This event will unite leading professionals from global brands to share their experiences on trending topics such as automation, data management, cloud-based software, pricing methodology, revenue growth tactics and much more. Brands such as Starbucks, Accor, Barcelo Hotel Group, Reckitt, Omio, British American Tabacco, EY & others will be in attendance to provide their valuable insights on how new innovations and modern processes are shaping the future of monetization and customer retention.
#2: Discuss Solutions to Give Your Business a Competitive Edge
You will have the opportunity to connect with other like-minded peers and discover innovations like leveraging analytics and adaptable frameworks, revenue management system automation, integrating your RMS with other internal systems such as PMS, CRS, CRM and optimizing pricing and margins with competitive pricing intelligence. Between the numerous case studies, panel discussions, and networking breaks, attendees will leave with real practical insights on solutions to help your organization accelerate the pace of digital technology adoption, improve tracking of your key performance indicators and predict market changes.
#3: Professional Networking Opportunities
This exclusive agenda is packed with informative sessions, but also throughout both days we have scheduled times for networking. Whether you choose to join us in Berlin or virtually, both tickets will provide the same great summit experience filled with knowledge-sharing and contact-building to grow your professional network.
We are also very thrilled about the support of our Gold Sponsor, Vistex.

Vistex helps businesses take control of their mission-critical processes, including promotions, rebates, pricing, discounts, and other incentives so your company can see the numbers, see what really works, and see what to do next. We're looking forward to hearing insights from them on March 30th at 9:40 am.
You don't want to miss this fantastic two-day opportunity to network and gain exceptional knowledge on the global implementation of revenue management technology and the main challenges with price forecasting, data collection and analysis, market demand trends, and much more.
If you want to learn more about key learning topics that will be covered and to see the full line-up of speakers, request your free brochure today. And once you are ready, purchase your ticket here!