According to the European Union, buildings are responsible for 40% of primary energy consumption and 36% of total CO2 emissions. Improving energy efficiency plays a critical role in reaching the goal of carbon neutrality by 2050 and an option to help reach this mark can be upgrading to smart buildings.
Manufacturers have a wide range of innovative options for smart buildings, including utilizing smart glazing solutions to help improve the energy efficiency of new and existing buildings. Smart glass's unique ability to change the transparency of the glass by switching between transparent and translucent in a moment makes windows, skylights, facades and curtain walls more modern, energy-efficient and flexible.
By taking advantage of key technologies such as nanomaterials, smart materials, coating techniques and more, these smart windows can help resolve issues dealing with design and functional demands, and ultimately help bring down CO2 emissions.
Let's examine a few use cases of the latest innovations within the glass industry:
Dynamic Smart Windows
Smart Glass technology can incorporate artificial intelligence to help manage the amount of heat and light coming into the building and can be controlled either by a switch, phone application, or even through voice commands. This reduces the need for office blinds and other window coverings and also saves you money on utility bills. Smart windows are mainly thought of being used on the outside of the building, but they can also be used inside as room dividers which can bring more lighting and openness to a room. 
Self-tinting Glass
Self-tinting glass windows not only provide privacy year-round, but it can help reduce cooling costs during the summer months. By using photochromic or thermochromic material, windows can tint electronically in response to the weather, the position of the sun, and adapt in real-time to the changing amounts of direct sunlight on the windows.
Innovative Media Glass
Traditionally glass windows have allowed us to connect with the environment outside but with innovative media glass, buildings are transformed into art showcases, advertising mediums and immersive experiences. This glass solution helps integrate new buildings into smart city infrastructure and helps connect with the community in a new and exciting way.
All of these new technologies and more will be discussed at the 4th Innovative Glazing Global Virtual Summit, which will gather material scientists, architectural glass experts, façade engineers and others to understand the opportunities and challenges associated with the latest glass coating technology and applications.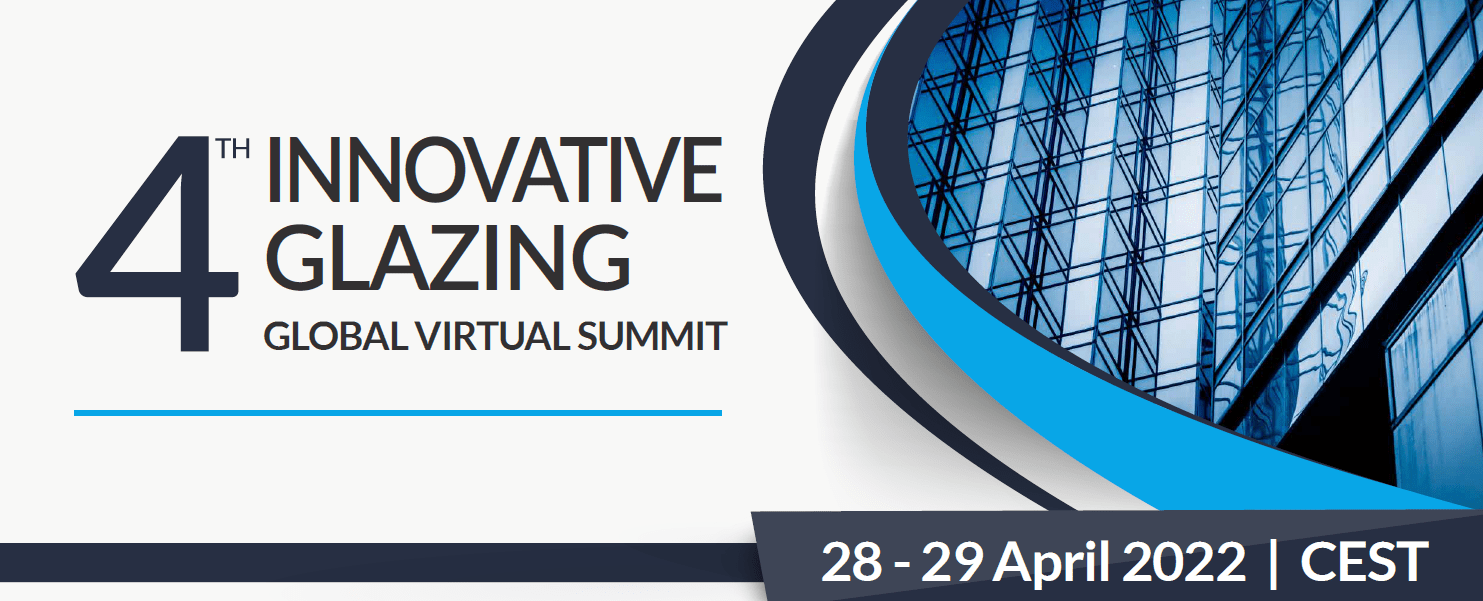 The summit will explore different glazing strategies in the industry and expand on the recent innovations being adopted to create smart glass with multi-functional uses. This will also provide a great opportunity for knowledge-sharing and networking with industry leaders while finding solutions to the most challenging problems that you may be facing. We will have the pleasure of hearing case studies from influential brands such as Saint-Gobain, Lendlease, G-Smatt Europe, TU Delft, Koltay Façades and many more.
We will be welcoming everyone in our virtual event platform that offers the opportunity to schedule 1-on-1 virtual meetings, share materials with event attendees, join different online networking tables, participate in discussions and Q&As, all in one convenient application.
EXPLORE OUR VIRTUAL EVENTS' EXPERIENCE:
Don't miss this fantastic two-day opportunity to learn from the best, grow your business and network with like-minded peers.
You can receive more information about the 4th Innovative Glazing Global Virtual Summit by requesting your free brochure and then when you are ready to join us, register here.