We are thrilled to be returning for our 3rd Annual Legal Operations Summit in Berlin, Germany on April 20th and 21st, 2023.
The legal operations function has taken a more prominent and strategic role within many organizations during recent years, due to advances in process automation, service delivery, organizational design, and spend optimization. Legal operations departments across the world have a simple but enormous task: to provide streamlined operations that drive maximum value.
To do so, legal operations must manage daily workflow and deliver services to users in an efficient manner. This requires a high level of technical expertise, as well as a deep understanding of the commercial realities of the business. The role of legal operations has become more strategic and more important as organizations harness the power of technology and new ways of thinking to drive performance and innovation.
Our upcoming hybrid summit will focus on the best practices of increasing productivity and optimizing costs by bringing specialized legal positions in-house and making innovation an inevitable part of every legal operations department. Continue reading for our top 3 reasons to join us and industry experts in April: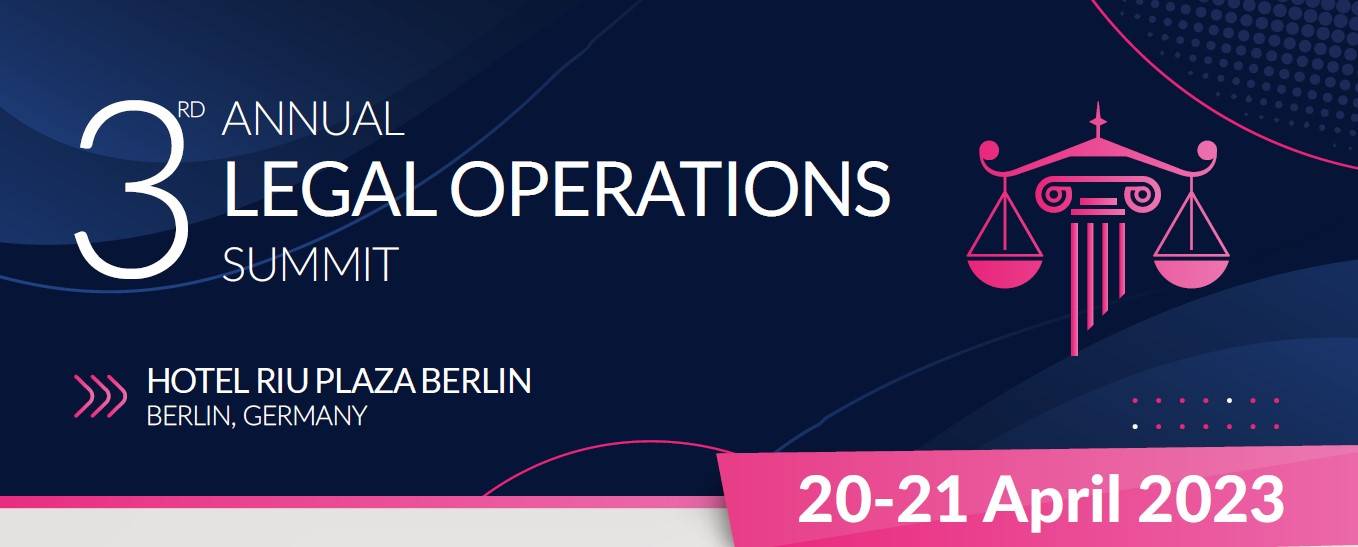 #1 Discuss the Latest Technologies & Innovations in the Sector
Attendees can expect to learn about the latest trends in legal operations management, including how to create a more efficient workflow, how to use technology to improve productivity and how best practices can lead to success. Attendees will also hear from several experts on how they've helped their companies succeed through the implementation of new strategies for facilitating data-driven decision-making, finding effective ways to control costs and evaluating the tools driving business value beyond revenue.
#2 Connect and Network with Global Brands
We know that networking is a crucial part of building a successful business and we want to make sure you have plenty of opportunities to connect with other professionals. This is the best way to get to know the other attendees and develop connections that will last beyond this event. With top brands like Norton Rose Fulbright, Loyens & Loeff, Addleshaw Goddard, Travers Smith, Mundipharma, Booking.com, Clifford Chance & more attending, this is the perfect atmosphere to discover the latest trends in legal operations, and how to optimize legal spending to embrace change and reach new levels of growth.
#3 Discover Real Solutions to Current Problems
By joining the summit, you'll get a behind-the-scenes look at how other companies are managing their legal operations teams, so you can learn from their successes and avoid their mistakes. You'll also see how other companies are leveraging technology to streamline their processes, cut costs, and make their lives easier—and then you can apply those same strategies to your own company's operations.
You'll also have the opportunity to connect with representatives from our sponsoring companies, including LawVu & Exterro.  This is your chance to learn more about the products and services these companies offer, as well as ask questions that may not come up during their sessions.


Our Platinum Sponsor LawVu provides productivity and collaboration tools built specifically for in-house legal teams to manage work all in one cloud-based, secure and connected system. Our Gold Sponsor Exterro offers a unified e-discovery, privacy compliance and digital forensics solution that helps organizations address their regulatory, compliance, and litigation risks more effectively.
This summit is a great opportunity for you to meet other professionals in the legal operations community, learn about emerging trends and technologies, network with industry leaders and gain actionable insights into how you can keep your law firm running smoothly.
Request your free brochure for more information about the 3rd Annual Legal Operations Summit and to see the full line-up of speakers and topics. Once you are ready, purchase your ticket here!