Add-On Products, our Sponsor for the 7th FUTURE Workplaces Summit, shares their thoughts on flexible workspaces. Continue reading:
Flexible Workspace Management
Make managing shared workspaces, hot desks and other collaborative coworking spaces simple, easy and cost-efficient.
What Are Flexible Workspaces?
A flexible workspace can be many things – a desk, a meeting room, a hub room –but in essence, it is a shared office space or flexispace that can be used by any employee at any given time. Flexible workspaces today are often areas where multiple desks or individual workspaces are located that can be booked by employees as needed.
Other types of creative shared workspaces exist as well.
Types of flexible workspaces
There are a variety of flexible workspaces that come with different desk layouts or creative space setups. Below are some of the common flexible workspaces your business may want to employ.
Hot Desks:
Creation of the new remote workplace, hot desks are individual workspaces that can be booked on-demand by employees for when they are in the office. Organizations can have as many of these situated around an office building as they like and are a single desk or cubicle-type space. Hot desk spaces are for anyone to use and bookable on-demand or in advance so employees can have a temporary dedicated workspace while on-site. [See how you can book hot desks near colleagues to foster better collaboration and teamwork.]
Collaborative Co-working Spaces:
Available to salaried employees, contractors, freelancers or visiting agency partners and teams, collaborative co-working spaces are not formally assigned and vary in style. Often, they are small meeting rooms adapted for digital presentations or creative brainstorming.
Open Offices:
Popular in businesses where open and constant communication is key, open office workspaces are entire floors (or sections of a floor) where all employees are accommodated in the same place leveraging an open floor plan layout. Workspaces may vary in style but often, open offices include desks and open creative spaces (couches around a table or comfortable chairs), and these are designed to foster employee engagement, communication, creativity and production alongside freedom and inspiration.
Huddle Rooms:
Usually secluded to offer a little more privacy or a quieter environment, huddle rooms are often designed to fit one to four people to have quick meetings, discussions, or check-ins. Huddle rooms are ideal for employee-manager 1-1s or quick team huddles to regroup before a presentation or brainstorm a quick idea.
Creative Spaces:
Typically designed to provide creative teams with spaces that inspire collaboration, innovation, creativity and brainstorming, creative spaces are usually built for small groups and are informal in nature. Sometimes they're meeting rooms, and other times, they may be large huddle rooms or designated sections in an open office area.
Get more information about all nine types of workplaces your business may encounter, how they're used and why you should consider them.
Why Are Flexible Workspaces Important?
Since the pandemic, more and more employees have placed value on being able to have flexibility in their work life. As businesses of all sizes adapted to the COVID-19 years, many also found that employees were more productive when able to work from home and felt more balanced. Due to that, many organizations – large and small – have opted for employing remote and flexible workstyles.
One of the results of this is needing an adaptable office space setup with desks and meeting rooms that can be booked and managed in real-time, both efficiently and cost-effectively.
Organizations that have provided this, have been able to tap into some of the great benefits of flexible workspaces that make having them so important for both employees and businesses alike.
Important benefits of flexible workspaces
1. Improved employee satisfaction and happiness
2. Improved employee retention
3. Increased employee engagement and production
4. Lower costs for office and workspace real estate, management and maintenance
5. Greater employee collaboration and communication
6. Lower overhead costs for the business overall
Another benefit to consider for the business is when employing a desk booking solution that can streamline workspace management processes. Employing a hot desk booking solution (as well as a meeting room and conference room booking software) can significantly cut costs, reduce wasted time of employees and administration, as well as offer key insights for the operational experts to identify and employ ongoing efficiencies.
See more benefits to flexible working →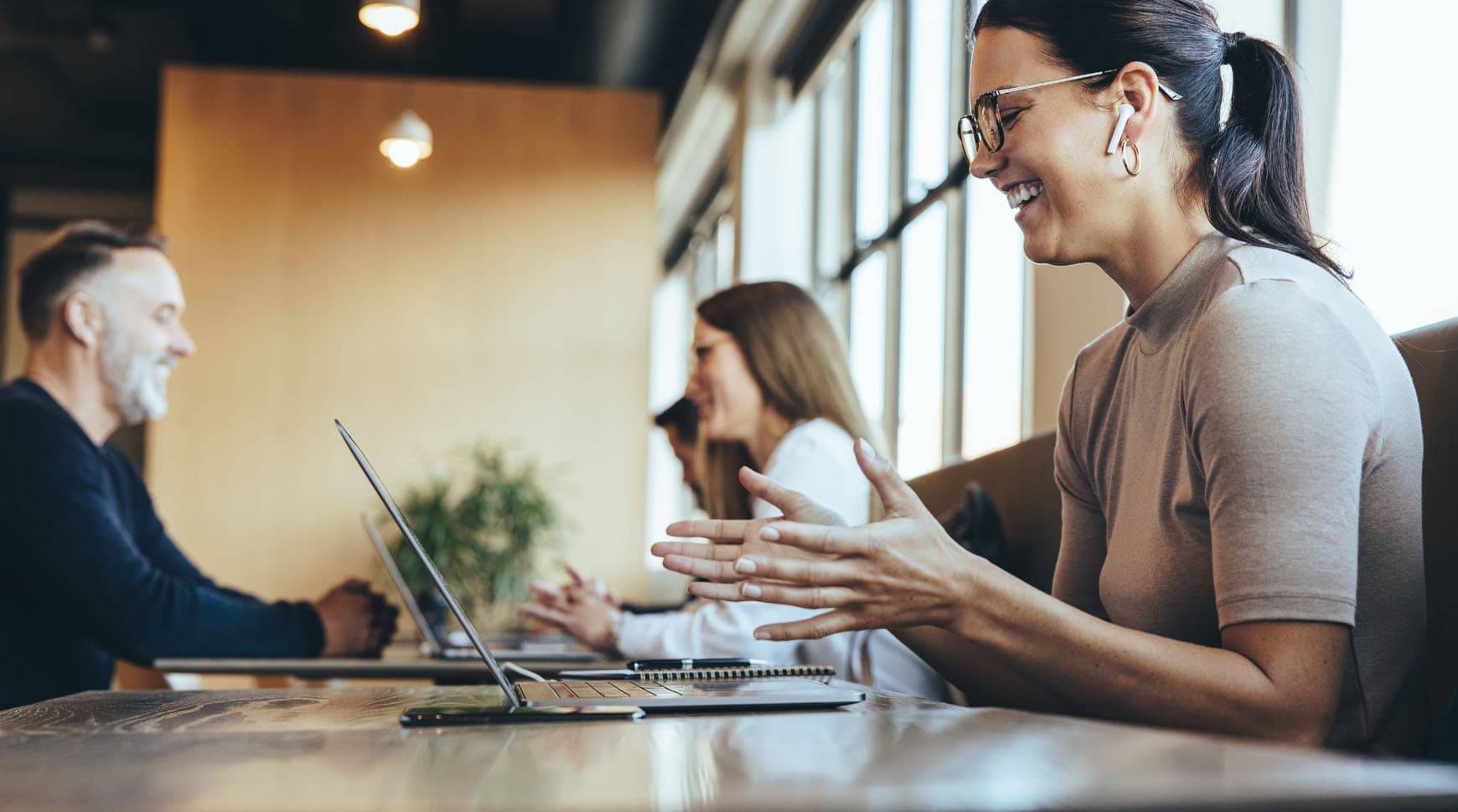 Who Should Use Flexible Workspaces?
Flexible workspaces are something all businesses should look to employ today if they wish to adapt to the changing workforce mindset. Remote work has been an overwhelming success for both employees and employers around the world and has allowed employers to cut costs and employees to save time and increase production. (PWC's survey indicated that 83% of employers said their shift to remote work was successful).
Small and large businesses can employ flexible workspaces in their office locations in a way that fits their workforce, their business goals and overall infrastructure and operations setup. To get you started though, here are five tips to keep in mind if you decide to transition to a flexible workspace setup.
5 tips for creating a flexible workspace
Keep high-traffic areas free of workspaces.
This means avoiding putting desks beside bathrooms, near breakrooms or stairways.
Create a higher number of smaller individual workspaces.
This may seem counterproductive, but in fact, it's more cost-effective and beneficial to output production levels to look to make workstations fit for one, two or three people.
Set up quiet areas and call rooms with soundproofing.
Doing this allows your employees to be collaborative when they need to be as well as grab quiet time to focus, reduce stimulation or take important calls without distraction.
Take advantage of open layouts, natural lighting and the color green.
Use the structure of your office building to make the workspace better and brighter. Windows, open spaces with easy movement, and of course, plant life, can all aid in making a workspace feel stimulating, positive, welcoming and inspiring.
Use a trusted desk booking and workspace management technology.
Managing desks and workspaces shouldn't take up employees' time. Instead, setting up workspace management and desk booking solutions that can integrate with employees existing technologies (like Teams and Microsoft Office) as well as their mobile devices will be an important part of successfully implementing a flexible workplace.
Flexible Workspace Management
How you organize a workplace is important – both for employee collaboration and for overhead cost management. With different types and designs of flexible workspaces to use, offering an easy-to-use desk management booking solution can help employees reduce time management, streamline workspace management processes and quickly adapt for small or large group needs.
Explore Workspace Management Products 
Booking Solutions for Workspaces, Meeting Rooms, and Desks
Add-On Products is a market-leading provider of software for booking workspaces, desks, and meeting rooms. Our software solutions are built for Office 365, Microsoft Outlook®, and Exchange.
Within Microsoft Outlook® or via the web, Add-On Products allows organizations to quickly book resources as well as adding catering, extra services, and visitor management. This enables organizations to optimize their resources, work processes, and real estate costs. 
Not at your desk? Add-On Products also allows users to use their smartphones to schedule desks and workspaces on the go with our app for iOS and Android. Use the app to search for a desk near your team or use the real-time updated floorplan to find an available workplace.
Once arriving at your office, Add-On Products also offers your organization multiple digital signage options. This will enable you to display all meeting activities in key areas, including reception, outside each meeting room, and even on your hot desks.
Visit our booth or www.add-on.com to learn more.