Industry 4.0 is driving a new age of manufacturing. New innovations provide real-time data and analytics to make data-driven decisions and help companies increase their overall agility and responsiveness to market changes. It also enables companies to personalize their products, resulting in increased customer satisfaction. By integrating IoT devices and advanced technologies, manufacturers can focus on improvements such as a safer and cleaner environment, shorter lead times and improved communication between systems, factories and facilities.
According to a study by McKinsey & Company, companies that fully adopt automation in their operations see an average of 20-25% increase in productivity and a 50-70% reduction in defects and production downtime on a year-to-year basis. 
With the right mix of automation technologies and new approaches to running operations, you can streamline your operations and reduce costs while improving quality. That's why we are excited to return for our 8th Annual Smart Manufacturing Summit in Prague, Czech Republic on April 27th – 28th, 2023.

This event is designed as a two-track summit (Robotics Automation and Manufacturing Excellence) filled with networking and discussions around the latest innovations in operational excellence, best practices for production planning and successful examples of global implementation of automation technology across the manufacturing industry. Let's take a deeper look:
Robotics Automation
The integration of robotics into the manufacturing process eliminates the need for manual labor and reduces the risk of human error, leading to increased productivity and profitability. Automation also enhances the quality of the products and reduces production time, which allows manufacturers to meet increasing demand and meet tight deadlines. Connectivity allows machines to communicate with each other, share data with humans and exchange information with other networks like cloud computing systems.
Join us for Track A to hear from major global brands such as IBM, TRUMPF, UST, Orange, Sanofi, International Paper & Datwyler Group talk about cutting-edge developments in technologies and solutions affecting the manufacturing sector like RPA, AI, virtual reality, digital twins, blockchain and more.
Manufacturing Excellence
Implementing manufacturing excellence is a strategic approach that focuses on the standardization of procedures, the elimination of waste, the implementation of best practices, and the continuous monitoring and analysis of production data. This approach not only helps in reducing the cost of production and increasing the efficiency of operations but also results in better product quality, improved customer satisfaction and enhanced employee morale. By consistently striving for excellence, manufacturers can maintain a competitive edge in their respective industries and stay ahead of the curve in terms of technology and process innovations.
Join us for Track B to hear keynote sessions from speakers from Bosch, Coats, EY, Whirlpool Corporation, Hitachi Europe, Eastman & West Pharmaceutical Services about driving operational improvement, improving workforce empowerment and transforming manufacturing operations.
When you secure your ticket, you will also gain access to an exclusive factory tour of the ŠKODA AUTO production facilities and museum the day before the summit.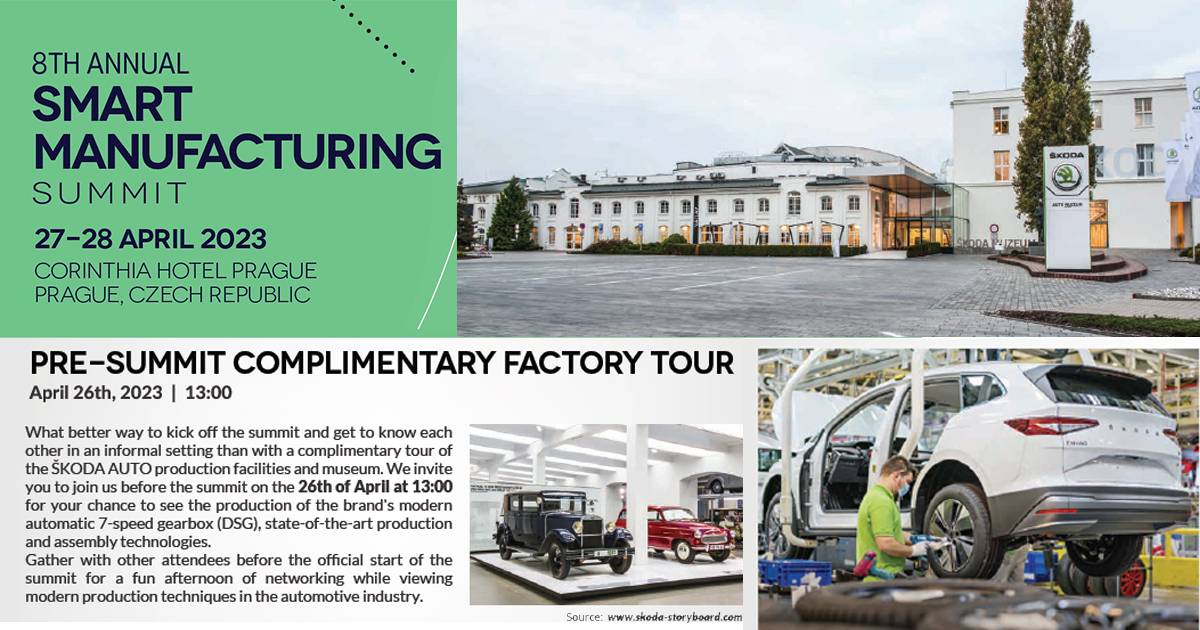 Get a behind-the-scenes look at their state-of-the-art facility, learn about the latest developments in manufacturing, and network with industry professionals.
Join industry peers in April in the perfect atmosphere conducive to active engagement, networking and knowledge exchange, to share insights on market trends and developments in solutions for manufacturers to become more flexible and efficient in 2023.
Request your free brochure today to discover the full lineup of speakers and see the complete event agenda.
Tickets are available now! Register today to save your seat so you don't miss out on this invaluable event.