The rise of artificial intelligence has shifted the way that businesses communicate and provide customer support. By embracing digital transformation and introducing chatbots, companies can achieve greater customer satisfaction, provide swift resolutions, and free up the time of their employees to focus on more important matters.
According to Business Insider, nearly 40% of global internet users prefer chatbots over humans. However, there are some factors to consider before integrating automation into your business operations and choosing the right kind of bot for your specific needs.
Several different technologies & processes will be discussed at our 4th World Chatbots Hybrid Summit which will bring together leading professionals from global brands to exchange knowledge on the smart utilization of conversational AI to facilitate your users with a seamless experience with your business and to support daily operations.

Let's examine two different types of conversational AI that you could implement:
AI-enabled Smart Chatbots
Artificial intelligence (or machine learning) chatbots use natural language processing (NLP) and Natural language understanding (NLU) technologies to understand the intent, language, and sentiment behind the question and deduce the customer's problem without any human assistance. These need a lot of data to learn and require programming to help it understand the context of interactions to lead to more insightful and dynamic thinking instead of just providing a link to self-service instructions. On Day 2 of the Summit, you'll have the opportunity to hear practical case studies that will provide insights on inclusive principles that are human-centric by design plus using NLP models to ensure that your design of intents is creating an optimal user experience.
Voice-enabled Bot
In addition to using NLP and NLU, you can take it a step further and incorporate Voice AI which uses automatic speech recognition (ASR) to break complex human speech into fractions that the computer can understand. It then deciphers what the correct response should be and verbally interacts with the customer. It's quick to respond just like having a conversation, user-friendly and encourages a more engaging customer experience by humanizing the AI. On Day 1 of our Summit, you'll gain a deeper understanding of the best practice of useful, sound applications where users can collaborate easily and flexibly creating optimal user experiences.
Should you incorporate a voice-enabled chatbot? Should you go with a more traditional ai-enabled chatbot instead?
Throughout the rest of the 4th World Chatbots Hybrid Summit, speakers will share their own experiences of exploring the recent cognitive advances for developing contextual intelligence and multilingual capabilities, as well as, developing sustainable and commercially viable chatbot projects no matter which type of bot you choose to go with.
We are excited to have the support of our Event Sponsors for the summit; Deutsche Telekom, AudioCodes, & CM.com. You don't want to miss the opportunity to connect with them to see how they can help take your business to the next level.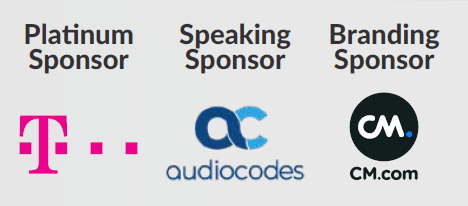 Attendees will also have the pleasure of hearing case studies from influential brands such as Booking.com, L'Oréal, Nestle, Accenture, Amazon Web Services and many more.
This hybrid event offers two participation ticket options: Berlin in-person or virtual. However, no matter which option you choose, all attendees will experience several networking opportunities throughout both days to help initiate valuable business relationships and gain insights that can help improve your bot's intelligence and productivity. Don't miss this two-day event to learn how your chatbot can enable higher user acceptance and deliver greater business returns.
Join this year's 4th World Chatbots Hybrid Summit to achieve a competitive advantage, establish new strategies for growth and lead your team to achieve success by expanding the range of chatbot internal and external use cases.
For more information about the summit, download your free brochure today! When you are ready to join us, register here.