Top 3 Reasons to Join the ESG & Sustainability Reporting Summit
We are excited to launch our ESG & Sustainability Reporting Summit on June 15th and 16th in Berlin, Germany.
As investors, stakeholders, and customers demand more transparency and accountability from companies, reporting on environmental, social, and governance (ESG) issues have become increasingly important. Not only does it help companies to mitigate risks, but it also enables them to identify opportunities to create long-term value.
Technology plays a crucial role in optimizing corporate reporting. Advanced reporting software, such as sustainability management platforms and integrated ESG reporting tools, can help companies to streamline their ESG reporting processes, collect and analyze data more effectively and produce high-quality reports that are in line with industry standards and regulations.
Our upcoming hybrid summit will focus on the best strategies to optimize corporate reporting ensuring transparency and accountability with clear and consistent reporting systems.

Continue reading for our top 3 reasons to join us and industry experts in June:
#1 Learn from Industry Experts
Our ESG & Sustainability Reporting Summit features a panel of expert speakers who will share their knowledge and insights on the challenges and opportunities in ESG reporting. You'll have the chance to learn from the best in the industry and gain valuable insights that you can apply to your own organization. With top brands such as Bayer, Lufthansa Group, AICPA & CIMA, BMW Group, BNP Paribas Personal Finance, Telefónica, The Kraft Heinz Company and many more speaking, this is a perfect atmosphere to gain exceptional knowledge on the latest trends.
#2 Network with Like-minded Professionals
Our Summit will bring together a diverse range of sustainability, financial, governance, corporate communications and compliance experts from various industries and you'll have the opportunity to network with like-minded professionals, share your experiences and build relationships that can help you advance your career and achieve your goals. We will have networking breaks that are specifically designed to facilitate meaningful connections and encourage collaboration that can last well beyond this event.
#3 Stay Ahead of the Curve
ESG reporting is becoming increasingly important in the business world, and staying ahead of the curve is crucial for success. Attending our summit will give you a competitive advantage by providing you with the knowledge, insights and tools you need to manage corporate reporting frameworks in a trackable and scalable manner to meet regulatory, data management and reporting requirements.
We are also excited to hear insights from our Speaking Sponsor, kShuttle, on June 15th at 10:20 CEST.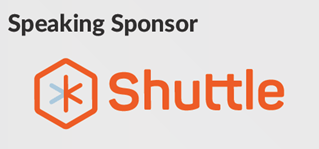 kShuttle's integrated software solutions are designed to help businesses steer and optimize their management processes to drive sustainability performances to the next level. Their smart software solutions for sustainability performance management make CSR and sustainability reporting easy & trustworthy.
At our ESG & Sustainability Reporting Summit, you'll learn how to develop and implement effective ESG reporting strategies, improve sustainability performance and enhance your company's reputation. You don't want to miss this invaluable 2-day opportunity!
Request your free brochure for more information and to see the full line-up of speakers and topics. Once you are ready, purchase your ticket here!